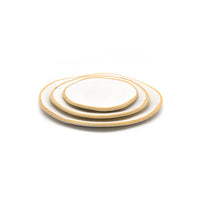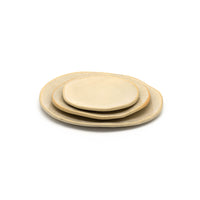 Handbuilt Plate Set (3-Piece)
This three piece plate set is the perfect base for your pottery collection, or an awesome addition to your existing collection of our signature pieces.  Our handbuilt plates offer the same handmade quality as our wheel-thrown signature pieces, but with completely unique, organic shape and a smooth surface finish. 
Dinner Plate (10")
Noodle Bowl (7.75" x 1.5") or Salad Plate (8")
Soup Bowl (5.75" x 3")
+ Hand-thrown stoneware
+ Microwave, Dishwasher, and Oven Safe up to 450°
+ Stain & Scratch Resistant
+ U.S. sourced clay bodies
+ Vitrified stoneware fired to 2225°F (∆6)
+ Proprietary, non-toxic glazes made in-house
+ Semi-matte glazes are susceptible to artifical cutlery scratches.  These can easily be removed using a powder kitchen cleaner and a firm scrub brush or pad.